TECHNOLOGIES DEFINES A BRAND
Our innovative designs such as our BURST, IDS, ESS technologies have allowed us to create award winning products placing us on the same playing field as all the other top bicycle brands in the world
The ARD (Advanced Riding Dynamics) equation encompasses our core value: to deliver a ride that has the best qualities for the given platform of bike at the given price. Correctly chosen parts help to make the bike perform admirably at its intended task, and our attention to detail shows in the end result. Frame, fork and wheels are considered the key elements to enhancing the ride quality of any bicycle. We endeavour to design and specify these components in such a way that whether you are a road- or mountain bike rider, you receive a bike without any compromises. Staying true to the ARD Equation: Frame, Fork and Wheels and add to that the Calculated Spec of all the other components, we will continue to offer a bike with unparalleled Riding Dynamics.
Aerodynamics is a topic found in most modern bike descriptions. Generally along the lines of how the frame profiles have been optimised for strength to stiffness, whilst cutting down on aerodynamic drag. The shortfall of this approach is that it doesn't consider the rider as part of the system. This is at the heart of Passive Air Guidance.
Through studying real world applications, the air disturbance can be understood in true conditions. Passive Air Guidance technology is implemented on the frame to promote smooth air flow over components and rider alike. Such an example can be seen on the Scarosso fork; where tubercles on the trailing edge guide air flow past the crankset area. As a result, reducing the form drag normally exerted on the pedalling motion of the rider. The Passive Air Guidance technology makes components and rider more streamline as a system.
Silverback road frames are tested to have optimal aerodynamic advantages for a combination of rider and bike. Our designs guide and  improve airflow over critical areas, reducing parasitic drag.
TRUNCATED AERO TUBING PROFILES
Truncated Aero Tubing improves airflow over the frame. This truncation means that tubes can be more compact, while retaining optimal aerodynamic properties and actually being more 'aero' in crosswinds, than a typical aerodynamic profile. This increases strength of the tube, improves stiffness, and reduces weight.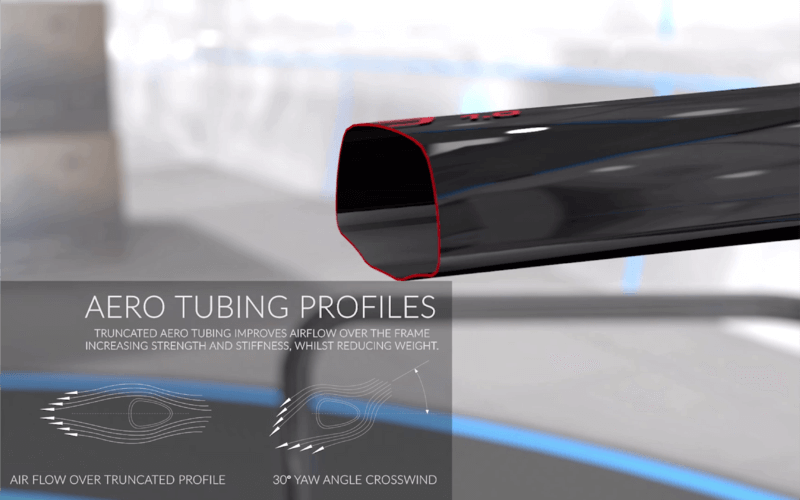 Expanded polystyrene (EPS) moulding. Preform moulding allows precise, uniform (wrinkle-free) and repeatable execution of the lay-up schedule. Uniform fibres increase strength reducing irregularities.