TECHNOLOGIES DEFINES A BRAND
Our innovative designs such as our BURST, IDS, ESS technologies have allowed us to create award winning products placing us on the same playing field as all the other top bicycle brands in the world
The ARD (Advanced Riding Dynamics) equation encompasses our core value: to deliver a ride that has the best qualities for the given platform of bike at the given price. Correctly chosen parts help to make the bike perform admirably at its intended task, and our attention to detail shows in the end result. Frame, fork and wheels are considered the key elements to enhancing the ride quality of any bicycle. We endeavour to design and specify these components in such a way that whether you are a road- or mountain bike rider, you receive a bike without any compromises. Staying true to the ARD Equation: Frame, Fork and Wheels and add to that the Calculated Spec of all the other components, we will continue to offer a bike with unparalleled Riding Dynamics.
The BURST (BRANCHED UNIFIED REAR SUSPENSION TECHNOLOGY) system is comprised of a solid rear triangle, kinematics that generate a rising rate leverage to allow for small bump sensitivity and big hit absorption, all which helps keep the frame stiff and light for excellent trail feedback and responsiveness, as well as limiting rider fatigue with the added handling and comfort characteristics of the frame design.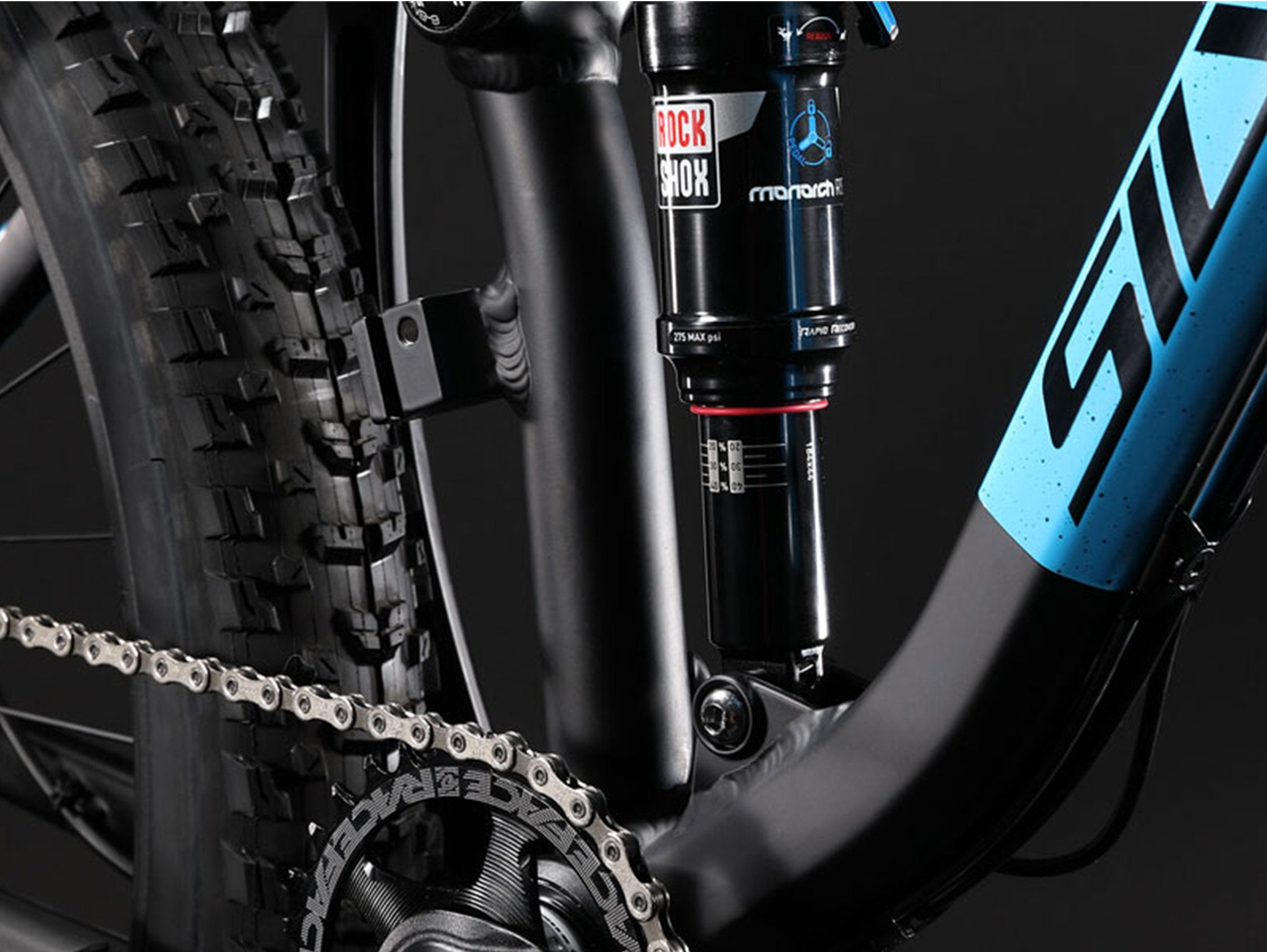 The IDS Revo suspension platform is designed to inspire rider confidence in all trail conditions, allowing one to focus on the trail with a full sense of security. It couples an extremely stiff chassis with supple and smooth suspension travel, all at a very competitive weight. The IDS Platform excels in situations with rough terrain and pedals efficiently, keeping the bike stable and grounded with great traction in all situations up or down.
BURST Pivot is the XC/Light Trail implementation of our popular BURST platforms. It combines great pedalling performance with a progressive endstroke to create a platform that reacts intuitively to different circumstances. Large bearings in the seatstay mounted pivots, near the dropouts, ensure a good service life.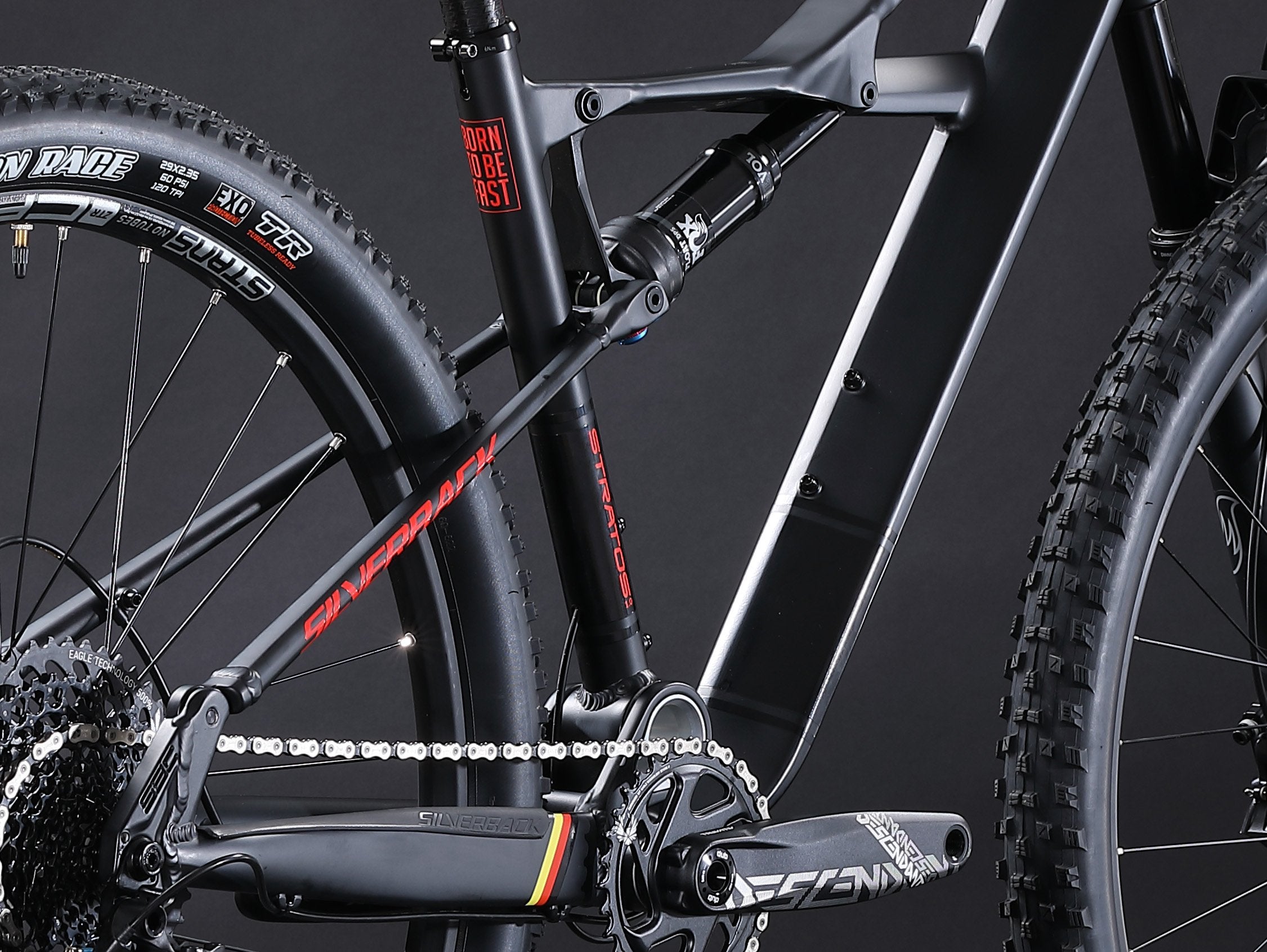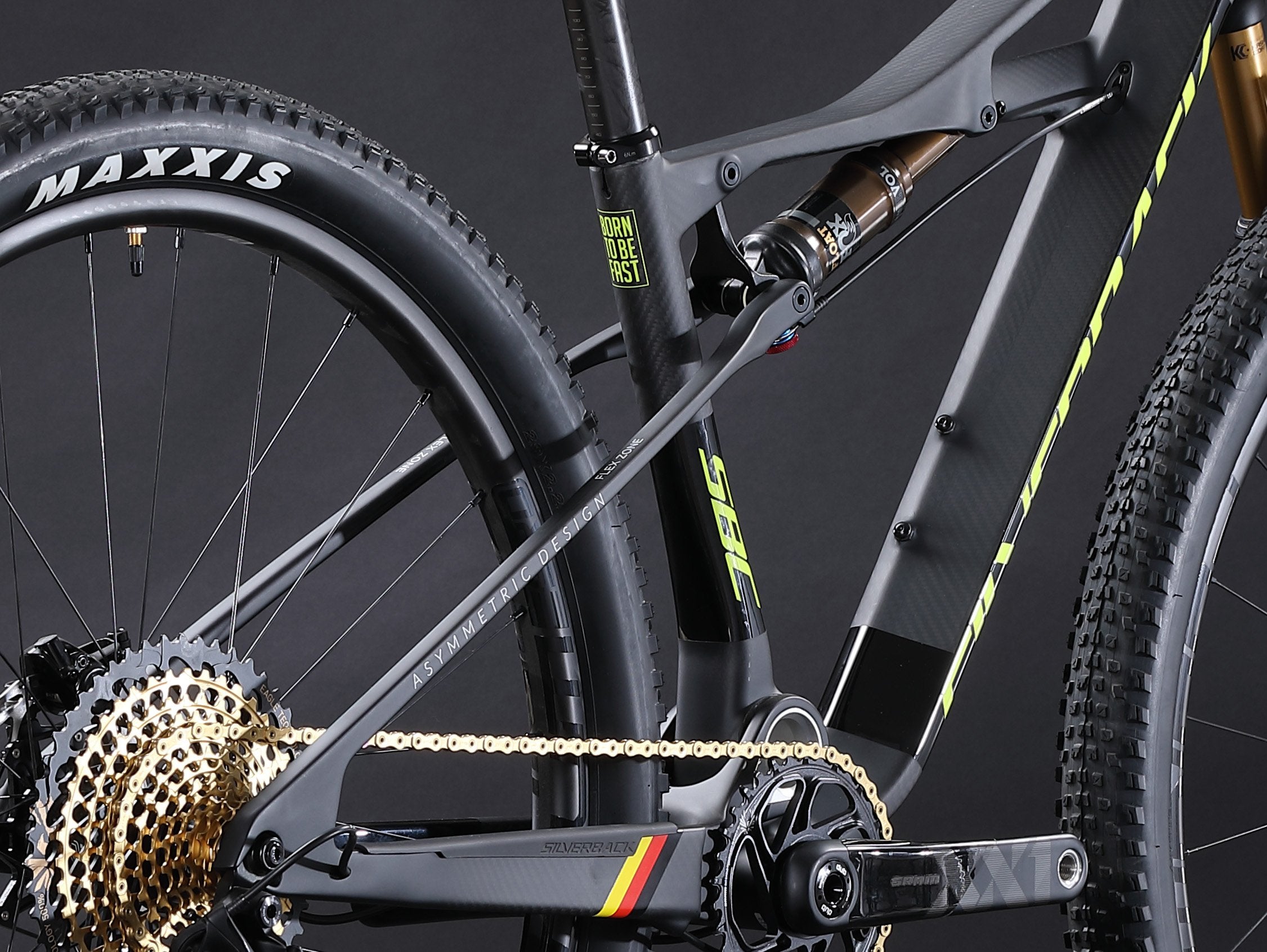 Burst flex suspension platform utilises flexible carbon seat stays, eliminating the need for a rotational pivot (bearings or bushings) in the rear triangle. Carbon fibre's properties work alongside the shock and leverage ratio to create a cohesive suspension platform. Elimination of a pivot point results a lighter frame that requires less maintenance.
LEVERAGE RATIO: Burst flex pulls into its travel in the initial portion of stroke, neutralises around 40%, and then increasingly resists a harsh bottom out for the remainder towards the end of the frame travel.
SSS – SIZE SPECIFIC STIFFNESS: Each frame size is optimised for a different average rider weight, with large featuring the most progressive leverage curve to provide support for heavier rider life.
Position of Power - Geometry designed to engage bigger muscle groups in pedalling, producing more power output for the same amount of input. Longer frame places the rider forward, in a more balanced position, improving grip on the rear on climbs and on the front on descents. A longer wheelbase and slacker head angle means more control at speed. Moving the rider forward. Better pedalling position on climbs and better traction on descents.
HOW: Shorter stem, wide bars, adapted geometry (longer front triangle, steeper seat tube, slacker head tube) and less fork offset. Moving the rider forward in relation to the BB, whilst keeping the rear-end as short as possible.
WHY: Benefits across riding disciplines. More control, better front wheel traction. Utilising bigger muscle groups to aid pedalling. Centralised weight improves balance, while the short rear end improves handling.
AFFECTS ON: Climbing- Positive impact on climbing, added traction, and forward weighting without spinning out since the bike is longer. Trail/traverse- More comfort on longer rides. Descending- More traction, more even weight distribution, centralised weight. Getting away with slacker head angle without front wheel wandering on climbs, which mean more stable descents.
OVERSIZED TAPERED MAIN PIVOT
The massive main pivot uses angular contact headset bearings, with the larger  52mm bearing used on the drive side to cope with the additional chain forces. The angular contact design allows for bearing wear to be tightened out - the same as would be done at the headtube.
BOXED ASYMMETRIC TUBE PROFILES - STRATOS
Asymmetric tubes allow for the dispersion of shock forces between the top tube and downtube. At the riding sag point most of the shock forces are directed along the top tube. At suspension bottom-out, the rear shock rotates and shock forces are split between the top tube and downtube via the single sided support strut.
Seatstays connecting directly to the top tube allow for independent seat tube movement. This is experienced by the rider as bump absorption - similar to suspension. Longer carbon sheets can be used in manufacturing, meaning less material and reduced weight. This award-winning Monoburst Technology is seen on the World Cup-winning Superspeed.
DROPPED ASYMMETRIC CHAINSTAY
The non-drive chainstay has 10% increased area to increase strength and better distribute braking forces. To accommodate a wide range of chainring sizes, the drive side chainstay is dropped to increase clearance. Rectangular chainstay profile tapers down toward the dropout, for absolute stiffness at the bottom bracket, while allowing a degree of dampening at the dropout.
S-Electro electric bike technology embraces and integrates electric assist motor systems into our designs. S-Electro is not a bike with an electric motor bolted on, it is a purposefully designed and engineered solution with both the electric drive system, and all of its components along with the ride quality and intended use of the bicycle is meticulously considered.
On S-Electro bicycles you can look out for these class leading technologies: Internal high capacity batteries, hermetically sealed motors, integrated motor mounts, Smart LED buttons, clever linking Apps, intuitive controls and integrated lighting solutions.
Silverback has an in-house carbon specialist and we work with our factories on specific carbon layup designs to suit the intended nature and weight goals of a specific frameset.
Carbon fibres are typically made from polyacrylonitrile (PAN) that is chemically treated, heated and stretched, then carbonized to create high-strength fibres. The fibres are the grouped together in what is called a tow. Tows are identified by the number of carbon filaments they contain, common ratings are 3K or 12K. Where the "K" references thousand, hence a 3K tow will have 3000 carbon filaments.
The tows can be woven in a number of patterns, or aligned in a unidirectional material, each serving a unique purpose. Perhaps one of the most recognisable weaves in industry, is the 2x2 twill weave. As the name implies, each tow passes over two tows, then under two tows. This weave gives it good pliability, formability and moderate stability. The longer distance between tow interlaces means fewer crimps compared to a plain weave and less potential stress concentrations.
Unidirectional carbon fibre are tows that are all aligned in the same direction, with no interlacing of tows, giving it high strength benefits. This enables a tailored layup with better control for performance characteristics. However the strength benefit of unidirectional carbon fibre is exclusively in the direction of the tow. Hence, a balance of carbon fibre weave and unidirectional must be used to meet the frame strength requirement exerted during use.
Expanded polystyrene (EPS) moulding. Preform moulding allows precise, uniform (wrinkle-free) and repeatable execution of the lay-up schedule. Uniform fibres increase strength reducing irregularities.
CORRECT FLEXING CARBON HINGES
Chainstays, top tube front/back and seat tube flattened areas help create vertical flex in the frame,  similar to a parallelogram, to increase comfort while decreasing rider fatigue, as well as helping the bike keep contact with the ground over rough terrain. The rectangular tube shapes are wide and flat, enhancing lateral stiffness all round, while giving the frame vertical compliance.
The flattened off seat tube allows for fore/aft seat post flex, while the oversized downtube and chainstay junctions means the frame is stiff where structurally crucial. The carbon hinge works in conjunction with the detached seat stays, to provide comfort without compromising performance.